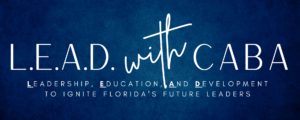 The Cuban American Bar Association ("CABA") is now accepting applications for the 2023 Inaugural "L.E.A.D. with CABA." This program is designed to provide CABA members with the knowledge, skills, and tools they need to be effective leaders within CABA, the Florida Bar, and our community.
The L.E.A.D. with CABA program will have multi-day trainings on Leadership, Education, And, Development, designed to assist a diverse and inclusive group of lawyers in becoming better leaders within the legal profession. L.E.A.D. with CABA will bring together experienced legal professionals and leadership development experts to provide a comprehensive curriculum that includes both personal and professional development.
L.E.A.D. with CABA GOALS:
Develop and nurture leadership by providing participants with the knowledge, skills, and experience they need to become effective leaders.
Our participating members will be challenged to explore their values, beliefs, strengths, and weaknesses, as they seek out opportunities for improvement in an effort to enhance their leadership effectiveness.
L.E.A.D. with CABA will work to raise the level of awareness and engagement among lawyers regarding issues facing the legal profession through the study of ethical, professional, and public service issues.
Encourage CABA members to become involved in the community and to use their leadership skills to make a positive impact on the world.
WHO CAN APPLY
L.E.A.D. with CABA is open to all CABA members who are in good standing and are committed to improving their leadership skills and making a difference in the community. In an effort to achieve diversity among the participants, qualified individuals will be sought from the private and public sectors, large and small law firms, different practice areas, backgrounds, and geographical areas of the state. At this time, student members are ineligible for the program.
L.E.A.D. WITH CABA 2023 CURRICULUM SCHEDULE
Session I - Kickoff Meeting
June 14, 2023 from 10am – 7pm
Session II
July 21, 2023
Session III
August 24, 2023
Session IV
October 13, 2023
APPLY TODAY
Download and complete the attached application form and email it to [email protected]. Applications open April 24, 2023.
All applications must be received on or before May 22, 2023 at 5:00 p.m. (EST).