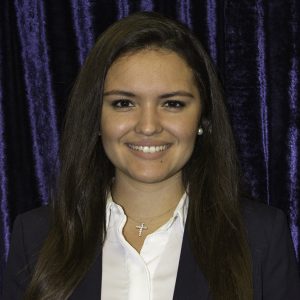 CABA Member Spotlight:
January/February 2018
Andrea M. Piloto
Florida International University College of Law
Juris Doctor Candidate 2018
Andrea Piloto was born in Miami, Florida in 1993 from parents of Cuban descent. Having grown up with stories and traditions that accompanied her grandparents over the Florida Straits and into the Roads, Andrea is a very proud Cuban-American. Now, while in law school, she is keeping her Cuban roots alive through her Presidency of the FIU Law Chapter of CABA. In school, Andrea is also the President of the Catholic Law Student Association (CALSA), she is a member of the Trial Advocacy Team and a Student Ambassador for the FIU Law Admissions Office. Additionally, Andrea is the current Secretary of the FIU Law Student Bar Association (SBA). She also served on the Conduct Review Committee for the 2016-2017 school year.
Her current involvements in school include assisting with CABA Gala preparation, creating a program shared by FIU Law's externship program and CABA Pro Bono, and directing the Mock Trial Diversity Project hosted by FIU Law annually, among other involvements. Andrea has two publications: She co-authored "Un Barco Sin Destino: The Past, Present, and Future of U.S. Immigration Policy Towards Cuba," a brief for the CABA Briefs Summer/Fall 2017 Edition. She also filed an Amicus Brief, under the direction of Professor Eric R. Carpenter, for United States v. Airman Braxton T. Swafford (No. ACM S32435), a case heard before the United States Air Force Court of Criminal Appeals.
Over the summer of 2017, Andrea completed a judicial internship with Federal Magistrate Judge John J. O'Sullivan in the United States District Court of the Southern District of Florida. That summer, she also interned with the Miami-Dade State Attorney's Office. She has completed internships with the General Counsel of the Department of Children and Families (DCF) under the direction of Javier Ley-Soto, as well as an internship with Senator Marco Rubio's Office. During the fall 2017 semester, Andrea returned to the Miami-Dade State Attorney's Office as a Certified Legal Intern for mentor Marie Mato. Andrea has been hired to work as a Miami-Dade Assistant State Attorney beginning in August of 2018.
Andrea's aspirations include to excel at being an Assistant State Attorney, continue her involvement with CABA, and one day become a judge in Miami.